Admissions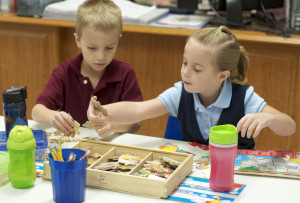 Being just north of Denver, Colorado we know that you have many choices in schools in the area. Choosing the right school is very important and should not be taken lightly. As you prayerfully consider which school is God's plan for your family, we hope this information will help. Please don't hesitate to give us a call to help answer additional questions, or more importantly, set up an appointment to take a tour and see for yourself.
The primary goal of the EBA program is to provide a safe, fun, and loving Christian environment where every child can learn and grow through positive experiences. Using designed play activities, fun and educational manipulatives and engaging curriculum, children will learn to develop reading skills, social skills, number and letter concepts, the calendar, and much more!
Our staff is committed to helping your child negotiate the early childhood developmental (cognitive, social, and physical) milestones successfully, working hard to meet your needs as a family. If you have a special situation or request, please let us know. We'll do what we can to accommodate your request.
Full-time options are available. We invite you to come in, tour our facilities and learn more about our program. Call us at 303-659-3818 or Schedule A Visit to arrange your personal tour.
---
One thing I love is how much my five year old keeps his parents in check. I'm amazed at how his brain has the power to hold all the information he has learned, not only for a day, but also from last year. Bible verses just come out of his mouth at the most perfect times. It helps us to remember what an awesome job God has bestowed upon us as parents.
Our children have been attending Elmwood since they were two years old. We are very pleased with the results.
After looking at several preschool options in the area, we chose Elmwood because of the loving, safe, and excellent environment they provide. We are very happy to be at Elmwood.